WIKILEAKS: Assange; Appelbaum, Berg, The Internet's Greatest Con Men
by Alan Taylor
References: "Inside Wikileaks" by Daniel Domscheit Berg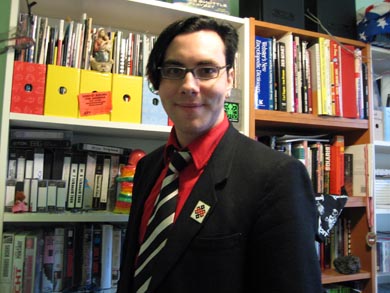 From left to right: 1. Jacob Appelbaum 2. Julian Assange 3. Daniel Domscheit Berg
Q. What do the above three people all have in common??
A. They are all liars. All three have lied about the security offered by Wikileaks to Whistle blowers, and in doing so have placed them at considerable risk. Initially, Wikileaks offered no more in protection than any internet savvy security concious netzien could provide. In addition, they deliberately bullshitted their way through media interviews using off the cuff techno-babble in order to conceal these shortcomings.
To his credit Daniel Domscheit Berg has admitted his involvement in this charade in his new book "Inside Wikileaks. Appelbaum however, exposes himself as a totally unreliable authority regarding computer and network security issues. The issue here is not one of technical expertise, but one of character and the absence of moral fibre. Letting his allegiances, associations and personal interests influence and eventually prevent him from delivering honest impartial assessments of network security issues.
Mary Technosux's piece at
http://maria-technosux.livejournal.com/161148.html
delivers a convincing argument concerning Jacob Applebaum complicity this matter. Just how bad and; exposed was the WIKILEAKS set up Jacob Appelbaum ,Daniel Domscheit Berg, and Julian Assange were all defending with the techno-babble bullshit media interviews and statements?
Daniel Domscheit Berg in his book "Inside Wikileaks" describes the technical and administrative set up that was Wikileaks:
For too long we only had a single server, even though Julian and I had to make it seem otherwise to the public. We had to give the impression that we were a broad infrastructure. When the server went down, people thought we'd been hit by a cyber attack or being censored . The truth was, that our technology was junk Or that we'd been unprofessional or neglected something important. If our adversaries had known that Wikileaks was just two loud-mouthed young men working with an antiquated server, they might have had the chance to stop our meteoric rise. Or at least slow us down.
If that was not enough Berg goes on to describe the lies and gross misrepresentation's concerning Wikileaks administrative structure.
He would have discovered that the same two people were behind all the various press releases, document summaries, and correspondence issued by the project. The official number of volunteers we had was also, to put it mildly, was grotesquely exaggerated. Even in the early days, we claimed several thousand volunteers and hundreds of assistants supporting us. This wasn't perhaps such a falsehood, but that number included everyone who had signed up for our mailing list. These were people who had gotten in touch with us at some point with the vague promise of supporting the project. But they did not do anything at all. They were just names. Not even names, really, just numbers.
Wikileaks remains an insecure ball of wax as we speak. According to Berg, he made off with the secure submission infrastructure when he left Wikileaks. It sounds to me that Wikileaks has not progressed very far. What appears to be left is Appelbaum, and Assange pedalling snake oil, bullshitting gullible media outlets with techno-babble and downright lies in order to serve their own interests.
eof
Alan Taylor
PGPBOARD Administrator
London, England